Shopping Cart
Your Cart is Empty
There was an error with PayPal
Click here to try again
Thank you for your business!
You should be receiving an order confirmation from Paypal shortly.
Exit Shopping Cart
The Pantera Owners Club of America
| | |
| --- | --- |
| Posted by victory747 on February 27, 2011 at 5:40 PM | |

http://www.capitolpanteras.org/
February 2011
text is sized for an 800 x 600 screen size
We would encourage everyone to become a POCA member, if you aren't already a member. Your membership in the national club helps fund your local chapter. You can download a membership application at http://www.poca.com/ Please help our club grow.
Museum Day, Sacramento, February 5, 2011
I love free Museum Day in Sacramento; so to have the opportunity to view a Pantera and go to the California Auto Museum at the same time was a good reason to drive to Sacramento on a Saturday morning. We arrived at the CAM at about 10:45 AM to find the parking lot already full! We were directed to wait for someone to leave and free up a parking spot. We opted to park on the street about a block away. On our walk back to the Museum, we were passed by Jeff and Robin as they were leaving the auto museum. We then received a cell call from Jeff. He had stopped in to see "Automobilia" where his 1974 DeTomaso Pantera is on display. He had offered to start up the Pantera but was told that there were too many people in the museum to do that. Too bad, that sound would have really impressed people! The display was made up of 16 Italian cars and 7 Italian motorcycles. Besides the Pantera there was 1960 Ferrari 360 GTC, 1988 Ferrari Testarosa, 2000 Ferrari 360 Modena, 1972 Maserati Bora, 1970 Maserati Indy, 1965 Maserati Mistral, 1964 Fiat 500 D, 1987 Lamborghini Countach 5000 SQV, and several Alfa Romeos. There were seven motorcycles, including different models of Moto Guzzi, Vespa, Ducati, Agusta, Maserati and Aprilia. My favorite after the Pantera was the Fiat 500D. I love micro cars. This car was the inspiration for "Luigi" in the Disney/Pixsar film "Cars".
The other special exhibit at CAM was "Dropped and Chopped". We walked that display as well since we are also members of the Rio Vista Delta Drifters car club. The Drifters is a local club for 1974 and older American cars. We were allowed to be members since the Pantera has the 351 Ford Cleveland and was manufactured as a joint venture with Ford. There was a lot of discussion about the Pantera before Jim was accepted in the Drifters. I know what some of you must be thinking about the Drifters name. It sounds like a "Rice Rocket " group. The name of the group has it origins in the 1940's when the original club was formed, when drifting had an entirely different meaning. This group was resurrected about four years ago and is going strong with about 40 members. While the "Dropped and Chopped" display was good, it was much smaller with only 9 cars.
After our visit to CAM, we went to lunch at one of my favorite places in Sacramento. Zocalo is a Mexican restaurant, but it is not your usual taco place. The food is very good. The service is excellent. Right now the restaurant is offering a great deal on Tuesday nights- $20 for a shared appetizer, two entrees , and a shared desert! If we lived closer to Sacramento we would be there next Tuesday night for dinner! Check Zocalo out at www.zocalosacramento.com .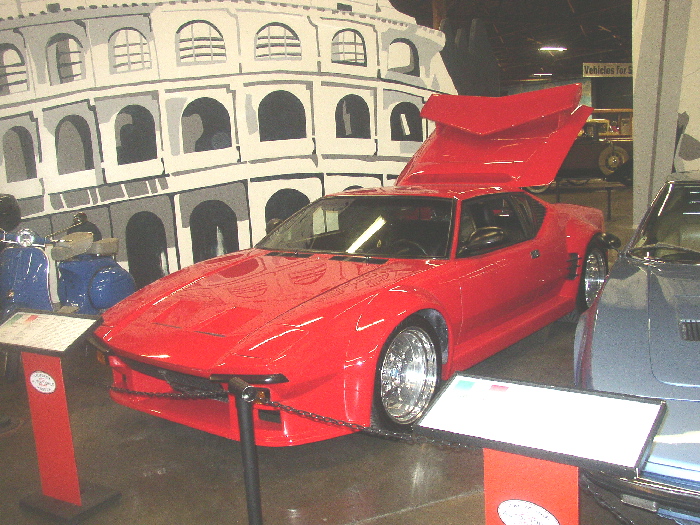 Obviously, the BEST of the Italian Automobilia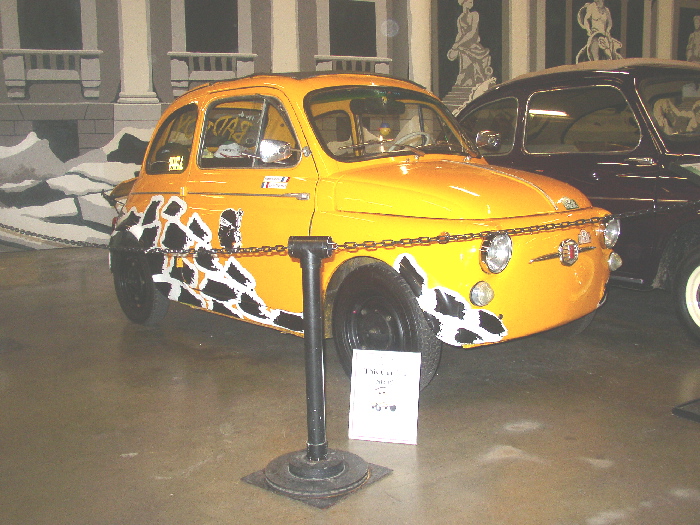 The Cutest of the Italian Automobilia

The Motoring Mouth

Some of the other car related topics discussed during the meeting included:

Garry and Sue also have a DeLorean, so Ken is no longer the lone DeLorean owner.

Ken reported that the last EuroSunday, in Sacramento, had 150 cars show up!

Jim is considering a different carburetor for the Pantera.

Don has the motor out of the Pantera.

Lamar plans to take his Pantera on the track at the Reno POCA gathering in June.

Rick will be doing the Tech check on Lamar's car at the CP tech session in April.

Summary of the February 2011 Capitol Panteras Meeting

The February meeting had two Panteras and a Mustang in the parking lot at Mimi's. Lamar Fairchild and Garry Choate drove their Panteras, while Don was in his Mustang. Attending the meeting; Jim & Emilia Seiferling, Ken Montgomery, Rick Carlile, John Worsley, Don Gagnon, Lamar Fairchild and his lady friend Maureen, Garry and Sue Choate, and Steve and Merry Dalcino. We had the raffle for a $20 Kragen gift card. It was won by Jim. The driving for dollars prize for $10 was won by Lamar. John reported that he has reimbursed Duane and Darice for their Christmas party expenses. Thanks again to them for hosting a great party. We have $1027 in our treasury with all bills paid. Garry and Sue have recently moved to Wilton, from San Ramon. They are keeping their PCNC affiliation and have joined our chapter as associate members. Welcome Garry and Sue.

Please read over the Club calendar and mark your personal calendar so that you don't miss any of the Capitol Pantera events this coming year.

Wanted: Articles for CP Newsletter

If you have attended a car function of any type, please write about your car adventures and send it to [email protected] to be included in the next Capitol Pantera newsletter. If newsletter articles are not received, then it will be more of Jim & Emilia's automotive adventures or "The Motoring Mouth".

2011 EVENTS CALENDAR

Capitol Panteras Events in Red

Notes: Capitol Pantera member, Carl Stein, will be racing his Trans-Am Mangusta in the

SCC Road Racing Series. http://www.sfrscca.org/content/section/4/26/ Carl will

not be running the car in all the races, so check with him to make sure if he will be

at a particular event.

Capitol Panteras member, Rick Carlile, will be racing his TVR in the CSRG Series.

http://www.csrgracing.org/ Rick has been accepted to race at the Sonoma Historic

Motorsports Festival and also applied for the Monterey Historics (status pending).

Feb 11-13 Autorama, Cal Expo http://www.hotrodshows.com/home.html

Feb 27 EuroSunday, Sacramento @ The California Auto Museum, Sacramento

March 8 Capitol Panteras meeting at Mimi's

March 27 EuroSunday, Sacramento @

April 1-3 CSRG Vintange Races @ Infineon. Rick won't be running this event.

April 2-3 Spring Sprint, open track at Thunderhill. The Shelby Club.

April 8-10 SCCA #1 & 2 @ Thunderhill

April 12 Capitol Panteras meeting at Mimi's

April 16 Tech Session & Track Inspection session at Rick's office/shop 9:30 AM

April 23 Car Show at Mustang's Plus, Stockton

April 24 EuroSunday, Sacramento @

April 30 Car Show, Grass Valley. Pre-72 cars.

May 7 Tour of the Jackson area. Chairman-Kathy Gagnon.

May 10 Capitol Panteras meeting at Mimi's

May 14 PCNC tour of Sonoma Wine Country.

May 20-22 CSRG Vintage Races @ Thunderhill

May 22 British Car Show, Woodland Fairgrounds

May 22 EuroSunday, Sacramento @

May 28-29 SCCA #3 & 4 @ Laguna Seca

June 2-5 Sonoma Historic Motorsports Festival @ Infineon

June 8-12 POCA Fun Rally, Reno. It is the Pantera's 40th anniversary and POCA's 30th!

June 14 Capitol Panteras meeting at Mimi's

June 16-19 SCCA #5 & 6 @ Laguna Seca

June Car Show in Arnold - Ch. Duane

June 26 EuroSunday, Sacramento @

July 12 Capitol Panteras meeting at Mimi's

July 23-24 SCCA #7 & 8 @ Thunderhill

July 24 EuroSunday, Sacramento @

Aug 5-6 Mini Nats @ Infineon. Shelby Club

Aug 6 Festa Italiana, Sacramento, http://www.italiancenter.net/

Aug 7 Festa Italiana Car Display on Sunday - Chairman- Jeff Budelli

Aug 9 Capitol Panteras meeting at Mimi's

Aug 18 "The Tour", downtown Carmel @ Noon. http://www.pebblebeachconcours.net/Tour.htm

Aug 19 Concorso Italiano, http://www.concorso.com/default.asp

Aug 19-21 Monterey Historic Races, Laguna Seca http://www.montereyhistoric.com/

Aug 28 EuroSunday, Sacramento @

Sept 2-4 SCCA #9 &10 @ Infineon

Sept 10 or 24 3rd Annual Placerville Run. Chairman-Lamar Fairchild

Sept 13 Capitol Panteras meeting at Mimi's

Sept 25 EuroSunday

Sept 30-Oct 2 CSRG Vintage Races @ Infineon

Oct 1-2 SCCA #11 & 12 @ Laguna Seca

Oct 8 20th Annual Car Show, Rio Vista - Chairman- Jim ( lunch at Foster's Big Horn)

Oct 9 Italian Car Show, Alameda. A benefit for Special Olympics. No entry fee for exhibitors.

Oct 11 Capitol Panteras meeting at Mimi's

Oct 15-16 Fall Classic, open track at Thunderhill. Shelby Club.

Oct 21-22 SCCA #13 @ Thunderhill

Oct 22 Car Show, Mustangs Plus, Stockton.

Oct 23 EuroSunday, Sacramento @

Oct 28-30 CSRG Vintage Races @ Thunderhill

Nov ? Capitol Pantera Brunch @ Ryde Hotel. Chairman- John Worsley.

Nov 8 Capitol Panteras meeting at Mimi's

Nov 27 Euro Sunday, Sacramento @

Dec 3 or 10 Capitol Panteras Christmas Party at ???

Please keep us informed of other dates and activities.

Jim & Emilia Seiferling

Co-Presidents, Capitol Panteras

http://www.capitolpanteras.org/

#1575 [JHSTBAD]

#7114 [JIMS CAT]

WB6BET-Jim

KI6YYT-Emilia

Life goal: To be the person my dog thinks I am.

"You're never too old to do goofy stuff."

~Ward Cleaver




Categories: Panteras Northwest Newsletters, Events

0

/