Shopping Cart
Your Cart is Empty
There was an error with PayPal
Click here to try again
Thank you for your business!
You should be receiving an order confirmation from Paypal shortly.
Exit Shopping Cart
The Pantera Owners Club of America
| | |
| --- | --- |
| Posted by victory747 on December 19, 2010 at 9:47 PM | |

December 2010
text is sized for an 800 x 600 screen size
We would encourage everyone to become a POCA member, if you aren't already a member.  Your membership in the national club helps fund your local chapter.  You can download a membership application at http://www.poca.com/  Please help our club grow.
Grand Island Mansion Champagne Brunch, Nov 14th.
by Emilia Seiferling
By the time that the actual date of the Capitol Pantera Brunch arrived the number of people attending had risen to 13.  There were 6 Panteras and a Bricklin parked at the Grand Island Mansion.  Those attending were: Don & Kathy Gagnon, Jim & Emilia Seiferling, John Worsley, Judy & Forrest Goodhart, Dena & Bob Lucas, Mike & Nancy Haney, Lori Albino & Mike Drew.  The Bay Area and Napa contingency met up in Rio Vista at the Seiferling home, where a bathroom, coffee & tea awaited them.  It gave everyone a chance to stretch their legs before the final segment of the drive to the Grand Island Mansion. Capitol Panteras was happy to have so many PCNC members decide to accept our invitation to join us on our Fall Brunch Run.  All CP events are open to other POCA members.  We only ask that you RSVP so that we know you are coming. There were five Panteras that caravanned to the Grand Island Mansion, 20 miles from our home.  I only regret that I forgot to take a photo of all the Panteras parked next to the house!  A local friend, who saw the gathering that day, remarked to me later how great all the cars looked! (Lucky for me that Mike Drew did take a picture of our house with three of the four visiting Panteras parked next to it.) The weather was wonderful, with temperatures in the 70's!  The skies were blue, there was no wind, and the Sacramento River was like glass as we drove north on Highway 160.  We enjoyed very light traffic on the entire drive.  There was even some fall foliage to enjoy; the grape vines were spotted with red and yellow leaves as were the numerous pear trees that line the levees.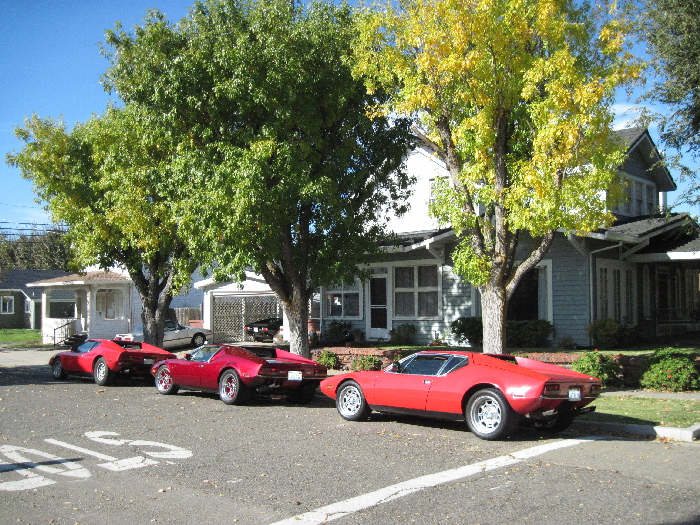 Our house with three of the four Panteras parked before the caravan to the Grand Island Mansion
Photo by Mike Drew
The Grand Island Mansion is a beautiful place that was built in 1917. For those of you who missed the brunch this year you can read the history of the Mansion on their web site
www.grandislandmansion.com
  The brunch was very good, as was the conversion at the table. The entrees ranged from New York steak, quiche de jour, to Italian Toast.  There were seven entrees to select from.  After we finished our meals, most of the group opted to do the self guided tour of the mansion before going outside to view Panteras and enjoy the great 75 degree weather in mid-November!  Several people took advantage of having John take photos of their Pantera in this beautiful location.  John is a retired professional photographer and has done this many times.  Thank you John for making all the arrangements for this years Fall brunch drive.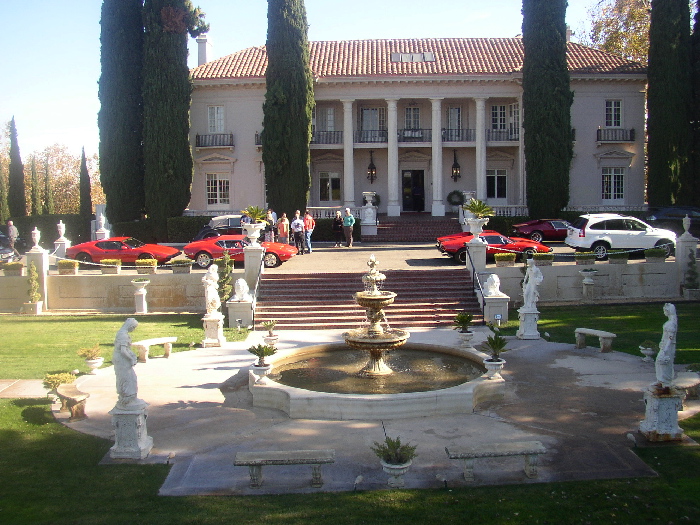 Next year we think we might go to the Ryde Hotel, in Ryde for brunch in the Fall.  The Capitol Panteras have not gone there for several years.  It is another of those hidden gems in the California Delta.  It takes a day like this for Jim & I to remember what a beautiful area we live in.  We had a short 20 mile drive compared to the 130 miles Forest and Judy drove from Watsonville to get to our house.  Don & Kathy Gagnon also had a 65 drive to the Grand Island Mansion.  We hope that they felt it was worth the effort to join us in the California Delta.  Jim and I enjoyed yet another great day because we drive a Pantera. 
Capitol Pantera Christmas Party, Dec 4th.
by Emilia Seiferling
Photos by Duane Harlan
It was beginning to feel a lot like Christmas as we packed up for the drive to the Capitol Panteras Christmas party in Sacramento. 
Darice and Duane Harlan hosted this year's party
.  We arrived in exactly the one hour and one minute that the GPS had advised that it would take to reach our destination. 
Our hosts and several of the guests that had already arrived greeted us
.  The party would eventually total 22.  We were disappointed that Ken and Judy had to cancel at the last minute due to illness.  We wish them both a speedy recovery.  It is never fun to be sick, but what a bummer to miss a party!  Those that did make the party were: Rick and Marcia, Nancy and Chuck, Kathy and Don, Duane and Darice, Jim and Emilia, Carl and Lesley, John W., Lamar, Lori Albino and Mike Drew, Garry and Sue Choate, Mike and Nancy Haney, Merry and Steve Dalcino.  We were happy to have some PCNC members be able to join us for the party.  Merry's sister lives in Fair Oaks so they combined a visit with her and attending our party.  Garry and Sue have recently relocated to Wilton and will be attending both PCNC and CP activities.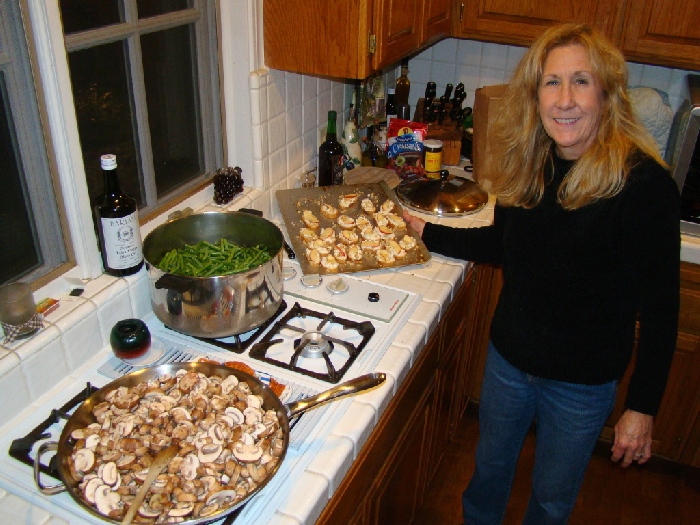 Darice prepares food for the party
Darice and Duane did a fantastic job with the party!  They offered to host the CP Christmas party almost a year ago, after last years party had to be cancelled.  Darice did all the food preparation with Duane manning the BBQ (in the rain). I did offer to bring something as did Merry, but was repeatedly told it was under control.  That was an understatement by Duane and Darice.  The meal consisted of an assortment of appetizers, spinach salad, rolls, green beans, au gratin potatoes, sautéed mushrooms, and tri-tip.  Dessert was red velvet cake and an assortment of holiday cookies, plus coffee or tea.  Since it was BYOB, everyone was happy with their beverage.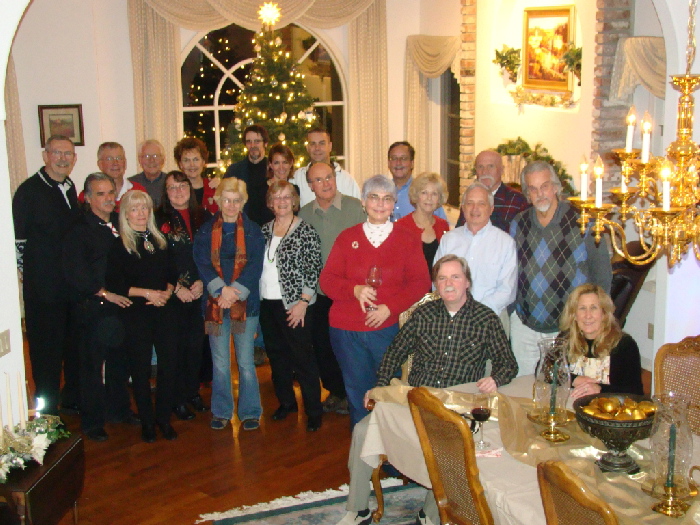 The 2010 Capitol Panteras Christmas partiers

 

After our fine meal and good conversation at the dining tables, we progressed to the gift exchange.  We moved chairs and gathered by the fireplace for the exchange.  This year the sequence for the exchange was a bit difference.  Jim thought of a way to add a bit more surprise to the gift exchange.  Each person who brought a gift was given half of a two-part ticket.  The other half went into a container.  We drew tickets to determine the order of gift selection.  That meant that you had no idea when you would get to select a gift.  It was a "pirate gift exchange" with the gift being "dead" after the third person selected it.  Many gifts moved around before they had their "final resting place" for the evening.  The theme for the exchange was Australia.  There was great variety in the interpretation of the theme; Australian food, candy, music (Bee Gees, Men at Work), movies (Nicole Kidman), wine (Greg Norman, Yellow Tail), beer (Foster's), hats, and gift certificates to the Out Back Steakhouse.

 

I wanted to add a note about the de Tomaso colors afghan that was one of the Christmas gift exchange items.  Jim has kept records for me about the afghans that I have made over the years for use as POCA raffle items or as Club Christmas gift exchange items.  It was afghan #19 that Kathy Gagnon took home from the 2010 Christmas party.  

Rick Carlile took Afghan #1 home from the 2001 party

.  We did the math to calculate the surface area of these Afghans.  It worked out to approximately 400 square feet.  I finally made an afghan to keep for myself this past year.

 

The evening ended with dessert and coffee and more conversations.  Our party was early this year and made for a great start to the Holiday Season.  How does December 3 or 10, 2011 sound for next year's party? Now is the time for anyone interested in hosting the party to step forward!

 

We want to thank Darice and Duane again for welcoming us to their home for the CP Christmas party.

 

Merry Christmas and Happy New Year to all.  We hope to see everyone at the next Capitol Panteras meeting on Tuesday, January 11, 2011 at Mimi's.

 

 

Wanted: Articles for CP Newsletter

 

If you have attended a car function of any type, please write about your car adventures and send it to

[email protected]

  to be included in the next Capitol Pantera newsletter.  If newsletter articles are not received, then it will be more of Jim & Emilia's automotive adventures or "The Motoring Mouth"

 

 

 

            2011 EVENTS CALENDAR

Capitol Panteras Events in Red

 

 

Jan 11 - Capitol Panteras meeting at Mimi's

 

Dec 3 or 10- Capitol Panteras Christmas Party at ???

 

POCA Fun Rally-  Exact date and location to be announced.  It is the Pantera's XL anniversary!

 

Please keep us informed of other dates and activities.

 

KI6YYT-Emilia
Life goal: To be the person my dog thinks I am.

Categories: Panteras Northwest Newsletters

0

/